Energy Switching Numbers Increase by +17% MoM, down still by -1% YoY
The number of people switching energy suppliers after the coronavirus outbreak is on the rise, according to a new report from Energy UK. The data shows that for July this year, a total of 519,700 switched electricity providers. This is a month on month increase compared to June of about +17%, and down -1% versus the same month in 2019.
So far this year a total of 3,447,234 customers have switched, which is 4% lower than at this point in 2019.

Source: Energy UK
This is being hailed as a 'recovery' in switching numbers due a large YoY and MoM dip that occurred at the start of the year in April (-29% YoY) and May (-15% YoY).

You can see from the graph below that the trend was previously showing a decline in April and May. The trend has now reversed for 2 months in a row with a growing number of people jumping in to switch suppliers: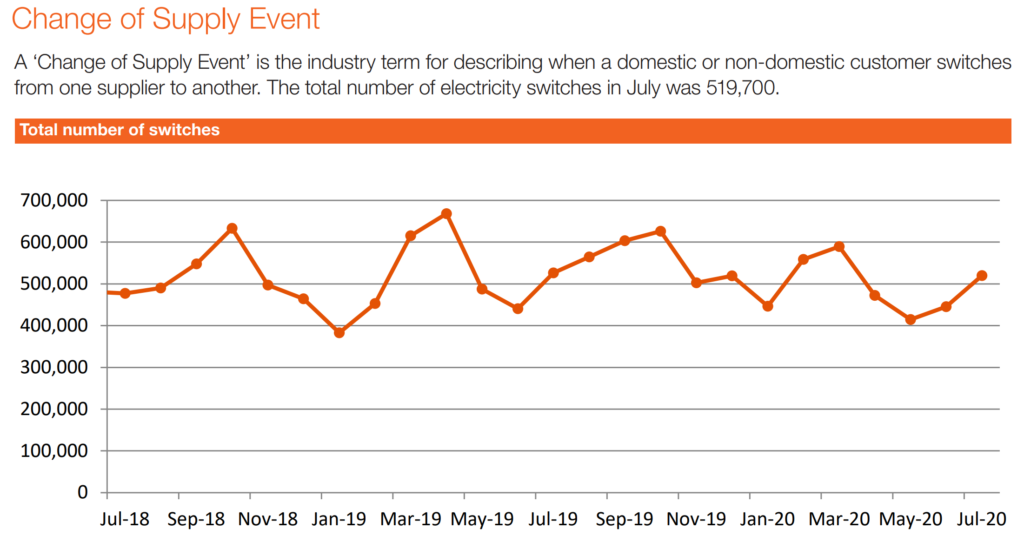 As we come out of the Summer period, it's a good time to review and take stock of your energy bills as you'll likely be in credit with your energy supplier.

Summer is typically where you overpay due to lower energy usage, hence building up a line of credit with your energy supplier. Winter is typically where costs increase due to higher energy usage and it pays to shop around for a better deal. Those who want to fix the price of their energy bill before an expensive winter should look at deals in summer or leading up to winter, and it's definitely not too late to find cost savings by using our energy switching service.