How To Save On Your Electricity & Gas Bills In 2021
Your bills are sky high because you've had the heating on over a cold period, and therefore your bills have sky rocketed.

No less, 2020 has been tough and you've likely been working from home or have been at home for a much longer period during the day… your bills have sky rocketed. You get where I am going with this.

Here is what you need to do to save and how you can cut down your energy bills.
---
Switch Energy Supplier
Through our partner of choice, Energy Helpline, I ran a quote vs what I am currently paying every month versus deals out in the market. I was able to find deals that will help me save save up to £196 a year – not bad after just 5 minutes of running the quote and taking a look: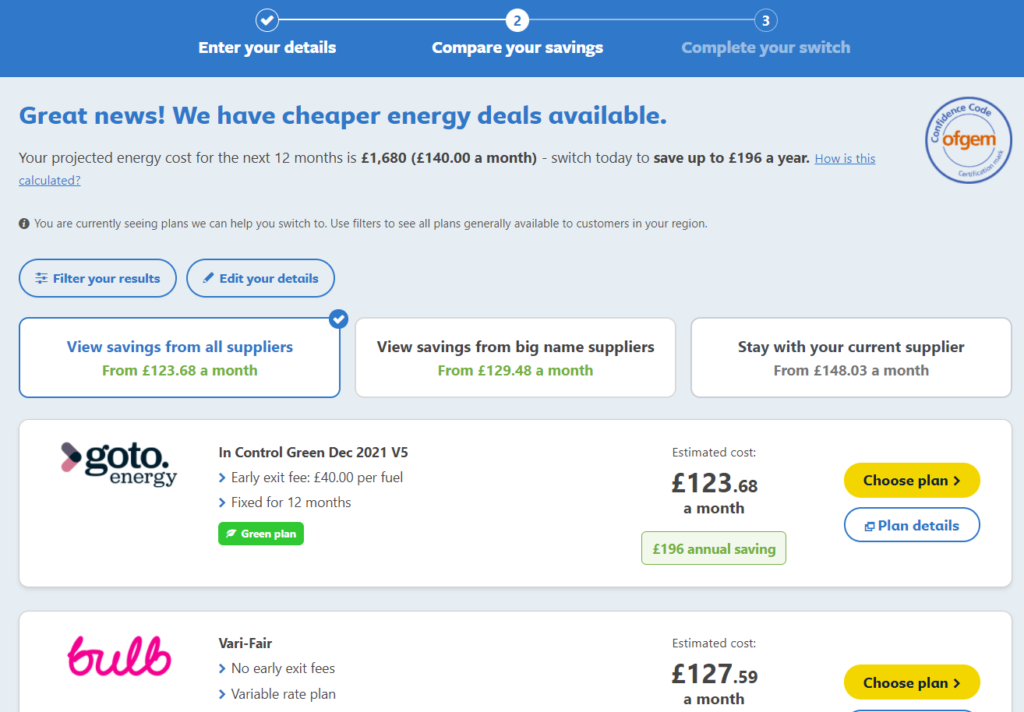 I can even go green with 'goto energy' – although check the fine print before making the switch, as some energy companies might not be compatible with your smart meter.
Suppliers Which Support Smart Meters
Bristol Energy
British Gas
Co-operative Energy
Ecotricity
EDF
EON
Nabuh Energy
Npower
Octopus Energy
OVO Energy
Scottish Power
Shell Energy (formerly First Utility)
Simplicity
SSE
Tonik Energy
Utilita
---
Buy Energy Monitors For Your Home
Unsure as to where you are consuming energy? Buy an energy monitor.

We've put together a list of the best energy monitors on the market. Installing energy monitors in your home will allow you to see and breakdown your electricity usage costs further. They cost anywhere between £18 – £100, so if you're feeling in the mood to identify where your energy is being used and exactly much power it is using up then take a look at the options below:

---
Stop The Draughts
I'd say this is where I've been able to make the most efficient gains in reducing my energy bills, well, because I don't need to turn on the heating.
I won't pretend to be an expert on draught proofing, so I'd recommend heading over to Energy Saving Trust website, where they mention:
"Draught-proofing is one of the cheapest and most effective ways to save energy – and money – in any type of building."

Energy Saving Trust
They state that professional draught proofing can cost up to £200, and also state that doing the draught proofing yourself would obviously be cheaper if you're handy.
I've simply been able to retain heat in my living room from simply closing the kitchen door where the source of the cold air is coming through when open.
---
Auto Switching Energy
Even though it doesn't take long to switch energy people have busy schedules and probably have better things to be worrying about.

That's why auto switching energy comparison services were created. The promise is that you sign up once, and never have to check or switch energy companies in the more manual way. We've put together a list of all the true auto switching services available in the market:
---
Main way to save on your energy bills however is to literally switch to a cheaper energy supplier. You'll see in my example above I've been able to find an option which will save me almost £200 within the span of 5 minutes.