Looking for a way to find out how much energy your appliances consume and reduce bills? An energy monitor might just be the product for you.
Energy monitors are small devices that measure how much energy you are using in your home. They are the easiest and most reliable way of getting a breakdown of the electricity your appliances use. If you want to reduce the cost of bills, an energy monitor will tell you exactly how much it costs to switch your washing machine on and show you where you can make savings.
Now you know you want an energy monitor (who doesn't want to save money?) but don't know where to find the most reliable one for the best price. Here's our list of the top ten energy monitors in 2021.
---
UK Plug Power Meter
Price: £18.29 on Amazon

Features: It measures energy, power and carbon dioxide emissions. There is a digital, backlit LCD display screen. It has overload protection – if the whole power exceeds the monitor's 2990W rated power, it will make a loud noise and automatically disconnect the monitor.
Pros: This is the best budget energy monitor on the market. The LDC screen is clear and easy to read.
Cons: While this is great for a budget energy monitor, it's pretty basic and the readings aren't always 100% accurate. The loud noise it makes when it disconnects automatically can be annoying.  
---
Maxcio 13A Electricity Power Consumption Monitor
Price: £19.99 on Amazon
Features: Measures power consumption, current and electrical costs in real-time. It contains a built-in battery that backs up your data in case of a power outage. There also is an overload warning that flashes on the screen when the connected device gets beyond 3680W.
Pros: The backup battery is very handy if you live somewhere there are frequent power outages. There are 7 different monitoring modes, allowing you to choose which way you want your data displayed.
Cons: Sometimes the readings aren't completely accurate, but they are close enough for this not to be a big issue. The screen is narrow, not backlit and harder to read than some of the other devices.
---
Energenie MIHO006 Whole House Energy Monitor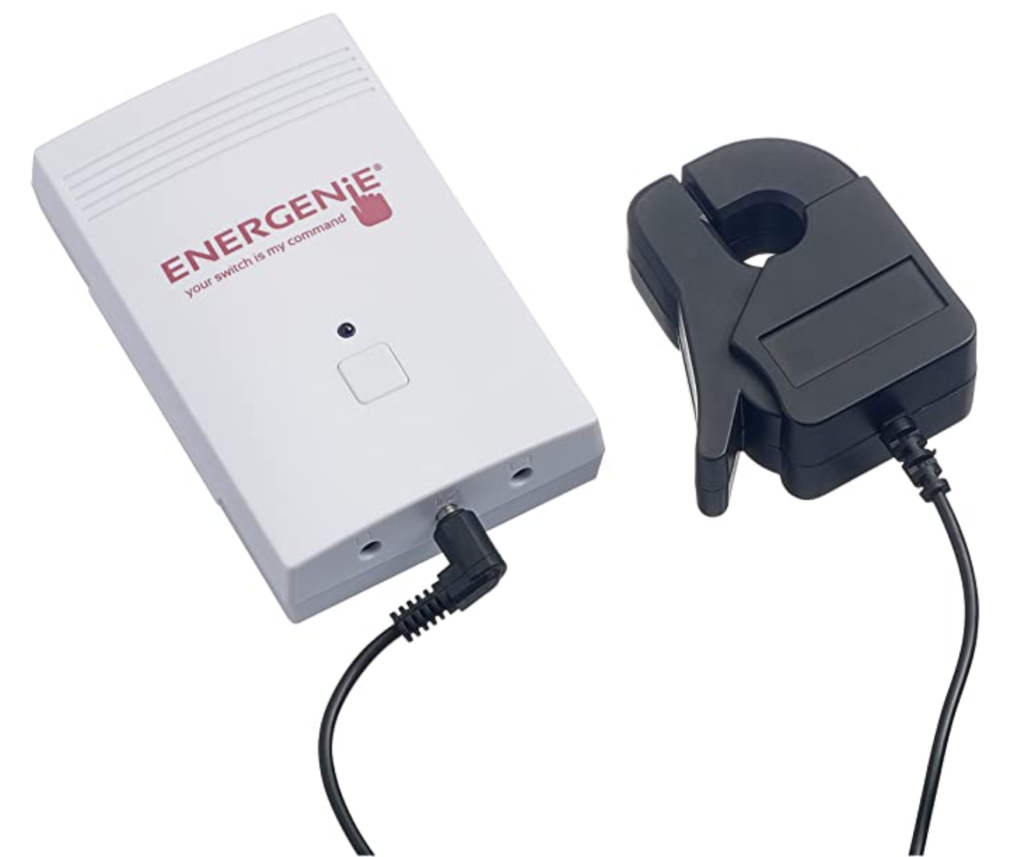 Price: £20.59 on Amazon
Features: This modern energy monitor measures electrical consumption from your Smartphone using a free app. It provides real-time data, straight to your phone.
Pros: The mobile app is really handy for somebody who wants to measure energy consumption remotely.
Cons: It's not completely accurate – some people say that the monitor's reading can differ from their smart meters.
---
geo Minim CT Clip Sensor
Price: £39.95 on Amazon
Features: It measures all of the same real-time energy data as its cheaper counterparts, but also keeps one month's worth of historical data for you to compare. Read all of this data on a backlit LED screen.
Pros: The screen is colourful with an easy-to-read LED display and the data comparison tool is very useful for putting your energy consumption into context.
Cons: It can be very difficult to install due to confusing instructions and complicated parts.
---
OWL Micro+ CM180
Price: £54.95 on Amazon
Features: The simple screen displays live, historical and average energy consumption rates for a household who want to dive a little deeper into the data.
Pros: Very simple to set up and easy to use. The average energy consumption data comparison is a great tool.
Cons: The screen is very basic and isn't backlit LED.
---
Loop Energy Saving Assistant

Price: £49.99 + £3.99 delivery on Amazon
Features: Loop also offers real-time and past energy consumption data and allows you to compare your energy consumption to other households. This product tells you if you're on a good energy tariff and advises you which one to switch to. Similarly to Energenie, this product is mobile based and you view all the data via an app.
Pros: The app offers more complex data than Energenie and is easier to navigate.
Cons: There isn't a feature (yet) to match the data to your bill cycle instead of calendar month, but we really hope they put this in.
---
Efergy Technologies ELITE CLASSIC 4.0
Price: £54.95 on Amazon (currently unavailable)
Features: Efergy Technologies has produced a wireless, compact energy monitor that can be placed anywhere in the home. It provides accurate, real-time energy consumption readings. This monitor is battery powered and takes AA batteries.
Pros: The fact that it is wireless is really handy – you can put it anywhere within your home without it getting in the way.
Cons: There are no tools to compare past or average with current energy consumption. The wireless range also might not cover large houses.
---
Efergy Technologies Engage HUB 1.1
Price: £76.95 + Free Delivery on Amazon
Features: This is another energy device that downloads data directly to an app on your Smartphone. It offers real-time data for energy use and historical consumption. You can also download the data to an excel spreadsheet for further analysis and set your monthly energy budget within the app.
Pros: The app is great and much more sophisticated than others on the market. If you're interested in analysing the data, then the ability to download it to Excel is a great tool.
Cons: It's a bit pricy if you don't want to download the data to Excel.
---
Aeotec by Aeon Labs ZW095 Home Energy Meter
Price: £99.35 on Amazon
Features: This small, discrete device measures your energy consumption wirelessly. It provides 99% accurate data in real-time, to your laptop or phone. This sleek monitor identifies which appliance is using the most energy, so you know where you can easily reduce costs.
Pros: This is easily the most stylish energy monitor on the market today. It's highly accurate and has fantastic wireless range, meaning that you can place it anywhere in your home.
Cons: It's a great product, but the price is more than double some of our other energy monitors.
---