Switch Energy Suppliers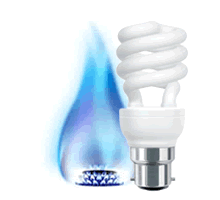 When was the last time you switched energy suppliers? Recent figures suggest that around two-thirds of households in the UK haven't changed their energy supplier in the past year. If you've been with the same supplier for a while, are you sure you're getting the very best deal? In a bid to attract fresh customers, many energy suppliers offer initially attractive rates, then increase the costs in later years. If you've stayed with them, you could be missing out. Often, loyalty isn't rewarded! Customers that stay with the same energy provider year on year can find themselves paying hundreds of pounds more than they need to (and more than customers who have recently switched to take advantage of a good deal). For this reason and many more, it could well be time to switch energy suppliers. Follow our straight-forward guide to energy switching in order to take advantage of some of the best offers currently on the market
The benefits of switching
Clearly, the biggest bonus when it comes to a successful switch is saving cash on your energy bills for gas and electricity. Not only do many energy companies offer fresh users energy at a lower price, there are also 12-month fixed tariffs on offer – opting for one of these means that, even if the price of your fuel rises over the next year, you'll still pay the agreed rate. Some energy providers will offer you a discount for switching, particularly if you decide to use them as your gas and electricity supplier.
As well as the opportunity to save money, there may be other bonuses in switching supplier: greener power, a customer loyalty scheme, discounted boiler cover or better customer care are just some of the potential advantages that a new energy supplier can bring.
What does switching actually involve?
A concern for many people is that the switching process will be complex, potentially leaving them without power for a period of time, or with additional charges to pay. The reality is, that for the vast majority of people, switching is quick and easy. If you're considering a switch, the first thing to do is to make sure that you know how much gas and electricity you normally consume and how much it costs you. This information is available on your power bills. Armed with this data, you're now ready to start comparing providers.
Start comparing!
The comparison process is simple, fast and can be completed entirely online, whenever it suits. Just input the required information, then let our system sort through a wide range of deals in order to find the one that's best for your individual circumstances. In some cases, the best choice may be to stay with your existing supplier, but for many more people, the way to get the most cost-effective energy will be to switch. If you discover that switching is going to be most economical, or provides the type of service you're most comfortable with, just submit your information and we will do the rest.
Before you leave
Prior to actually completing the switch, you will need to provide meter readings and also pay any outstanding energy costs to your existing supplier; if the costs have been incurred in the past twenty-eight days, you can settle them as part of the last bill you receive. For energy debts that are older, full payment is required before the switch can take place.
What about pre-payment meters?
It's still possible to switch energy suppliers if you have a pre-payment meter. If you can't afford to pay your entire debt off in full, you may still be able to switch provided you owe less than £500. Suppliers don't have to agree to allow you to switch, but can't prevent you unless they can give you a valid reason. If you're not sure what your existing supplier's process is for this, ask them about their "Debt Assignment Protocol."
So how hard is switching?
For many people, the hardest bit of the entire process is finding their energy bills in order to have accurate information on which to base a comparison! Most households find that swapping provider is easy – the hardest part may be dealing with the, "Please don't leave me!" calls from your current supplier. Remember that even when you've agreed to change provider, you still have fourteen days to change your mind (the cooling off period). This means that if your current supplier offers you a better deal, or provides some other inducement, you can simply cancel the agreement and keep your current provision in place.
What problems am I likely to encounter?
On the whole, switching is convenient, fast and easy. For customers that owe money to their existing energy provider, the situation may be a little more tricky; even then, depending on the amount owed and the type of account you have, it's still perfectly possible to switch in most circumstances. Even if you're unable to switch at the current time, just knowing what's out there in terms of better deals can be useful to know so that you're aware of your options when you're in a more favourable position to switch. If you're not impressed with the savings you find after undertaking a comparison, it's always worth comparing again in a few months' time – energy suppliers are always bringing out fresh offers, so you may find that the next time you compare, there are considerable savings to take advantage of.
We offer a fast, straight-forward comparison service that enables you to easily see which providers will give you energy for less. Whether you want to swap your electricity supplier, gas supplier or find a dual-fuel provider, we have suitable options available. We update our system regularly, ensuring that you've always got access to the most up-to-date prices and deals. Many of the promotions available are time-limited, so don't miss out! Take advantage of our free, no-obligation energy comparison service today and start saving money on every unit of electricity or gas you use.